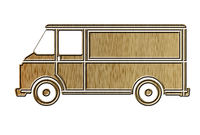 Among other rules of the road, Georgia's rule related to left hand turns is set in stone: thou shall yield to oncoming traffic prior to making a left hand turn.  In fact, the Highway Administration estimates that roughly 22% of wrecks are caused by left hand turns alone.  And, UPS made notice of an estimate that a left hand turn adds on an additional 30-45 seconds to a road trip.  Apparently, through creating its own software and maps, UPS has been able to avoid left hand turns that saves UPS from 6-8 miles per route, 100,000 metric tons of carbon dioxide per year,  emission pollution equivalent to over 21,000 less passenger cars per year and 10 millions of gas each year.
But, wait, there's more. A study determined that right hand turns only cause about 1.2 % of all crashes.  And, out of all crashes that occur whilst turning or crossing an intersection, 61% relate to left hand turns as opposed to 3 % as to right hand turns.  If you read further, you discover that left hand turns are three times more likely to result in a fatal wreck.  Thus, if you are a pedestrian, it is probably better to use a sidewalk to the right of moving traffic.
I have been practicing personal injury law for over 25 years.  I represent motorists that have been injured by the negligence of drivers that have made left hand turns.  The law in Georgia, O.C.G.A. 40-6-71, basically mandates that drivers intending to turn left must yield the right of way to any vehicle approaching from the opposite direction irrespective if that vehicle is in an intersection or so close to one that it is a hazard.