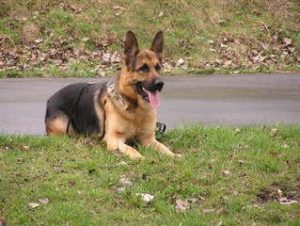 Recently, I settled an outstanding lawsuit against an owner of an alleged "service" dog that was brought into a national chain of steakhouses in Greater Atlanta.  Nowadays, it is not surprising to see service dogs in retail stores, restaurants and other public spaces.  For my earlier post regarding "service" dogs and dog bites,  click here.
The backstory on our case is that the owner of the dog was on a trip from West Coast and passing through Georgia on her way to the East Coast with her friend.  Along for the ride was a mixed breed large male dog that growled at the hostess on the way into the restaurant and again at the manager of the restaurant on the way out after the attack.  Several other employees were also ready and willing to testify as what occurred after the dog bite.  Upon deposition, it was clear that the owner of the dog was a difficult and angry person.  There was no evidence available to indicate that the dog was involved in prior attacks/bites at people/animals prior to our claim.
My client was a young server at the restaurant and did not ask the defendant whether or not her dog was an authentic  and genuine "service" dog at the time of service pursuant to a mix of restaurant policy and nebulous law from a county/state perspective.  What actually constitutes a "service" dog is still up for debate from a city/county/state/national analysis and there are no clearly enforced guidelines to steer individuals/businesses in this regard.  In fact, anyone can do a Google search for a service dog vest for sale, buy it, and upon receipt place it on their dog with no questions asked.  The defendant later admitted during discovery that the dog was not a trained "service" dog and only wore (and did not earn a service vest – most likely, to discourage prospective questions when she brought her dog into public places of accommodation/service.