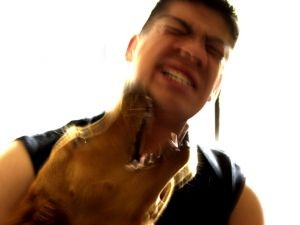 Over a year ago, a young vibrant 12-year-old little girl was walking and skipping in the street with her friends in her DeKalb County neighborhood at night.  At or around the same time and unbeknownst to her, a neighbor's pit bull mix dog either pushed open a side door or gate and charged down the driveway and into the street toward the children.
Unfortunately, my 12-year-old client did not hear or see the pit bull until it was too late.  And the cries and shouts of her friends beforehand were wasted.  She turned, tripped and fell down upon the ground where she attempted to kick at the dog to protect herself to no avail.  The strength of the pit bull's jaw leveraged down upon the victim, bit her to the bone and ripped a chunk of flesh from her lower leg.
The  adult male owner of the dog contended that the little girl provoked the dog to attack by kicking it in the street.  For what cogent reason a young child would kick a pit bull at night, the owner could only speculate.  Of course, the owner's contention was a lie.