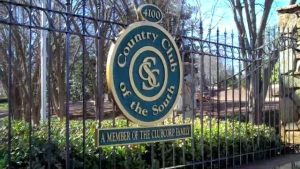 I recently settled another dog bite attack against an owner of an aggressive dog.  The dog owner (and dog) resided in The Country Club of the South – an upscale country club gated community in Johns Creek, Georgia.  My client is a UPS driver who had delivered packages to defendant's home approximately 3-4 times prior to the attack- on these occasions; he did not see any dog or notice any dog warning signs on the property.  As with other dog bite cases, I mailed out letters to defendant's surrounding neighbors to solicit information and instances of prior aggressive behavior from defendant's dog prior to filing a lawsuit.
The Attack:  My client brought several packages up the driveway to defendant's front door.  The front door had a glass window and my client did not need to press the doorbell as he could see the owner coming to the door. The defendant opened her door and two unleashed (violation of leash law) dogs came out and ran circles around my client.  Without provocation, the big dog (a German shepherd mix) jumped on my client and bit him several times on the arm and ankle leaving bloody puncture marks.  At the time of settlement, there were several small permanent scars on my client's ankle.
Fulton County Animal Control:  Personnel from the County investigated the attack and wrote up a report.  Among other citations, the owner was cited for allowing her dogs to run at large while not under constraint and control of a competent person; violations under Fulton County and Johns Creek ordinances.  Typically, the city has the same dog ordinances as the county.