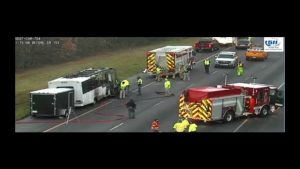 This morning, a motorist, Javarius Exum, (25), was in a stopped 2009 Dodge Charger on I-75 North in Henry County, Georgia. For reasons unknown, Mr. Exum stopped his vehicle in the far right hand lane of I-75 North.  The AJC article indicates that the vehicle was disabled – yet, I suspect that is an assumption at this point.
(Photo credited to Georgia Department of Transportation)
A passing motorist noticed Mr. Exum's stopped vehicle, called 911 at approximately 4:18 a.m., and notified authorities that the Dodge only had brake lights activated.  Roughly, three minutes later, a bus from Tennessee that was also traveling northbound was unable to get into the left lane (to the left of Mr. Exum) and struck Mr. Exum's vehicle from the rear.