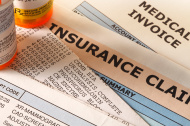 For purposes of this blog post, let us assume that you were not at fault for the collision and do not have medical insurance or medical payments coverage (on your own auto insurance) that would otherwise be available to pay your medical, therapy and hospital bills that you incurred as a result of your injuries in your car crash.  In Georgia, the insurer for the at-fault motorist is not obligated to pay your medical bills as soon as you incur them or when such bills become due and payable.  Typically, medical bills are paid out of a lump sum money settlement after you have finished your treatment. That is why it is always important to use an experienced personal injury attorney to fight for the highest settlement possible!
TIP 1:  Buy medical payment coverage on your auto insurance.  This coverage is cheap and will pay the medical bills that you incur as a result of your car crash irrespective of whether you were at fault.
On occasion, auto insurers will (surely try) promise to pay you (an unrepresented victim) a small paltry sum for pain, suffering and inconvenience and represent it will "pay" your medical bills.  Don't fall for it – it is a sucker's bet – and you if you agree to it – then you allow the at-fault insurer in essence to control your medical treatment – and your interests are obviously opposed to one another.  If you have a question regarding this contention, then please contact me and I will happy to speak to you. Now, back to the topic at hand.
TIP 2: Consult an experienced auto accident attorney.
To commence our substantive discussion, let us start with The Fair Debt Control Act of 1971.  This act was passed to provide protection to the consumer/debtor from overzealous/unscrupulous collection agencies and collection law firms.  As such, debt collectors must operate under the applicable guidelines of the Act which is overseen by the Federal Trade Commission.
Under the Act, a credit reporting agency (CRA) is not lawfully able to list your unpaid medical bill on your credit report until 180 days (grace period) elapses from the day the debt was incurred.  The important thing to grasp is that you must do all you can to pay this medical debt off on your own before your grace period expires.  Remember, some personal injury cases do not settle within 180 days of your initial hospital or therapy treatment.  Sometimes, auto insurers prolong their review of your settlement demand past this deadline to obtain leverage against you.  In other cases, the auto insurers want to make you sweat over an extended period of time so you will accept less.
TIP 3:  When a debt collector calls, do NOT verify your information.   However, you should ask the collector for their company name, address and account number on the debt.  If the collector is unable to validate the debt, then under the Act, the collector cannot collect on the debt. The debt may go to another collection firm, but at least the collector on the phone can't legally pursue it against you.
If you are in car wreck and you have not paid your medical or therapy bills for over 180 days from the day the debt was incurred, the health care provider may sell or assign that debt to a collection company.  Even then, collection companies may assign that debt to another debt collection service or outfit.  When you have an old unpaid medical bill from an auto collision, you may have to call several different collectors to determine the present collector of the debt.  Some collection companies will advise that you that they will settle for less than the full amount of the bill and request that you pay them by credit card.  Be careful as you may not be able to prove that this payment was a full and final settlement of debt and not just an installment payment.
TIP 4 : Request that the collection company email or fax you a confirmation of your agreement to settle your medical bills for less than the amount of the bills as collectors may sell off the remainder of your debt to another collection service.
On some occasions, you may need to consult a credit counselor or a counselor that can restore your credit due to unpaid bills from a car wreck.   If that is the case, perform some extended research in your area to determine the right counselor for you.
If you have incurred unpaid medical bills or chiropractic bills as the result of injuries related to a car crash, then please contact us today for a free consultation and evaluation of your case.  We have over 24 years experience and practice throughout the State of Georgia and can come to you.  Please call 404-869-6969 or use our toll free number (855) LAW-FORD to secure your rights today! The Law Offices of Kevin C. Ford is currently accepting car collision and injury cases throughout Georgia.