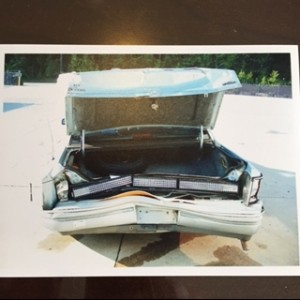 Two weeks ago, I tried an auto injury case in front of a six (6) person jury in the State Court of Cobb County, Georgia.  Judge Carl Bowers was the presiding judge at this trial and made fair and consistent rulings on the evidence. Prior to this trial, State Farm had undergone some type of a reorganization and the supervisor was contacted (versus the adjuster) by the defense lawyer as to settlement authority. It was relayed to me the morning of the trial that the supervisor had decided to offer zero dollars – no in-depth explanation was provided.  But that was okay because I had prepared for this trial and both my client and I were ready.  By way of background, Cobb County has been known as a conservative venue for car wreck cases.  However, with changing demographics and opinion regarding human losses and injuries caused by car crashes, that old assumption is no longer true.
Let me tell you the facts of our case.  In July of 2012, my client was operating a Lincoln Town car (built like a tank) and was stopped at an intersection at a red light when the defendant collided into his vehicle from the rear.  As luck would have it, the collision was captured on the dash cam video of a Douglas County Sheriff who had been traveling down the road in the opposite direction. However, Georgia State Patrol had jurisdiction of the wreck and completed their investigation.  In my career, I think I have only had several cases that reflected the car crash on video. After investigation, the trooper cited defendant for following too closely behind my client's vehicle than was reasonable and prudent.
In terms of the property damage, my client's vehicle was totaled and his trunk reflected intrusion of several feet.  The strength of the impact caused my client's seat to break and my client was forcibly thrown backwards striking his head and neck against the back seat.  He does not recall losing consciousness but felt a headache and some neck pain at the scene despite telling both the defendant and the trooper that he was not hurt.
From the scene, my client was taken home and attempted to take a nap. By the time he awoke, the pain had increased in his neck and had commenced in his back.  He also started to experience pain that traveled from his neck down his left arm. In fact, he had tried to hold several items in his left hand, including a pencil and cigarette, without success as he had lost grip strength.  By way of explanation, the experience of pain traveling from one region of the neck to the arm(s) or from the buttocks area down to the feet is common in wrecks that have caused a herniation.  A herniation is a protrusion of the fibrous material outside of the disc in the spine.  Among other things, the discs in your spine act as shock absorbers.  A herniation of a disc is analogous to a jelly donut that has been squeezed hard enough for the jelly to squirt out. In our case, the jelly was the nucleus populsus in the disc that had ruptured and pressed against my client's spinal cord and nerve causing pain during every conscious hou
In terms of treatment, my client treated conservatively with a chiropractor and a medical doctor at a clinic. He also received an MRI (a magnetic resonance image test) that produced a computerized image of the internal body tissue of my client's neck and a nerve study test that was positive for findings of nerve damage in his wrists.  My client's total bills were $10,500.00 and he had lost wages of $128.00 for two days.
My client also had a previous bad wreck in November of 2011 and testified that his injury and pain from that wreck resolved a month or so before the July 2012 wreck.  At trial, my client was transparent and testified as to his previous wreck and injuries.  He also testified that he suffered from PTSD from the first wreck.  It is safe to say that my client was not necessarily a compelling witness on the stand as he was ill at ease, uncomfortable and out of his element. Yet, my client was truthful and did not exaggerate his injuries and pain. The defense attempted to create a credibility issue with my client by cross-examining him using a deposition from his first wreck as to issues that were not relevant to his injuries.  The jury understood that my client could not possibly remember all the details from a wreck that was several years ago and did not hold it against him.
In closing, I asked the jury to award my client his medical bills and lost wages and for a sum for his pain and suffering that was fair and encompassed the totality of his pain in the past, present and future.  My specific figure was between $21,000.00 and $24,000.00. Defense counsel asked the jury to award nothing.  After roughly an hour, the jury came back with a verdict of $30,000.00 so that my client would be able to pay his attorney.  Who was I to argue?  After the trial, the jurors were kind enough to speak to me and my client about the case and were pleased that they were able to help my client.
If you are injured as the result of the negligence of a motorist, then it is important to contact an experienced personal injury attorney immediately to investigate and gather evidence for your claim.  Moreover, find an attorney that can successfully try a case to a jury.   I have been practicing for over 23 years in Georgia and have yet to see a TV lawyer try a case in Greater Atlanta.
The Law Offices of Kevin C. Ford have over twenty years of experience in handling the claims of Georgia accident victims caused by the negligence of motorists and if you or your loved ones have been the victims of such an accident in Georgia, we can help you, too. Contact us today, to speak to an attorney right away. As always, the consultation is free, and there is no obligation. Call us at 404-869-6969, or use the online form. We are available to answer all your questions.