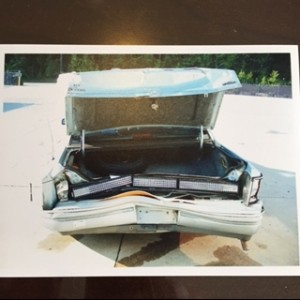 Two weeks ago, I tried an auto injury case in front of a six (6) person jury in the State Court of Cobb County, Georgia.  Judge Carl Bowers was the presiding judge at this trial and made fair and consistent rulings on the evidence. Prior to this trial, State Farm had undergone some type of a reorganization and the supervisor was contacted (versus the adjuster) by the defense lawyer as to settlement authority. It was relayed to me the morning of the trial that the supervisor had decided to offer zero dollars – no in-depth explanation was provided.  But that was okay because I had prepared for this trial and both my client and I were ready.  By way of background, Cobb County has been known as a conservative venue for car wreck cases.  However, with changing demographics and opinion regarding human losses and injuries caused by car crashes, that old assumption is no longer true.
Let me tell you the facts of our case.  In July of 2012, my client was operating a Lincoln Town car (built like a tank) and was stopped at an intersection at a red light when the defendant collided into his vehicle from the rear.  As luck would have it, the collision was captured on the dash cam video of a Douglas County Sheriff who had been traveling down the road in the opposite direction. However, Georgia State Patrol had jurisdiction of the wreck and completed their investigation.  In my career, I think I have only had several cases that reflected the car crash on video. After investigation, the trooper cited defendant for following too closely behind my client's vehicle than was reasonable and prudent.
In terms of the property damage, my client's vehicle was totaled and his trunk reflected intrusion of several feet.  The strength of the impact caused my client's seat to break and my client was forcibly thrown backwards striking his head and neck against the back seat.  He does not recall losing consciousness but felt a headache and some neck pain at the scene despite telling both the defendant and the trooper that he was not hurt.