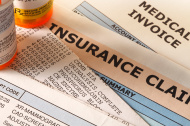 For purposes of this blog post, let us assume that you were not at fault for the collision and do not have medical insurance or medical payments coverage (on your own auto insurance) that would otherwise be available to pay your medical, therapy and hospital bills that you incurred as a result of your injuries in your car crash.  In Georgia, the insurer for the at-fault motorist is not obligated to pay your medical bills as soon as you incur them or when such bills become due and payable.  Typically, medical bills are paid out of a lump sum money settlement after you have finished your treatment. That is why it is always important to use an experienced personal injury attorney to fight for the highest settlement possible!
TIP 1:  Buy medical payment coverage on your auto insurance.  This coverage is cheap and will pay the medical bills that you incur as a result of your car crash irrespective of whether you were at fault.
On occasion, auto insurers will (surely try) promise to pay you (an unrepresented victim) a small paltry sum for pain, suffering and inconvenience and represent it will "pay" your medical bills.  Don't fall for it – it is a sucker's bet – and you if you agree to it – then you allow the at-fault insurer in essence to control your medical treatment – and your interests are obviously opposed to one another.  If you have a question regarding this contention, then please contact me and I will happy to speak to you. Now, back to the topic at hand.