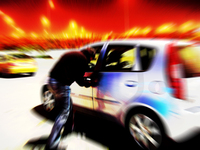 I remember the day and the time that it happened to me.  It was a Saturday night around 11 p.m. in the mid 90s and I was leaving a restaurant in a small retail shopping center in Atlanta near Collier Road after meeting with some friends.  I walked out into the parking lot and spent over 10 minutes looking for my car. I retraced my exact steps when I initially arrived at the restaurant from parking the car and walking into the restaurant. I attempted this fruitless maneuver several times without success.  At this point, I was a little concerned.  I knew that I only had two drinks at a nearby restaurant and that my inability to find my car was not based on my intoxication or lack of familiarity with the surroundings.
I decided to walk one more time to what I thought was my initial parking spot.  I looked all around and didn't see the car.  Then, I decided to look down.  Sure enough – there was shattered car window glass on the ground in my spot – you know, the type of glass that is shatter proof and crumbles upon impact.  At this point, I called the Atlanta Police Department and filed my stolen car report.  APD found my car the next day near the water treatment plant.  Some perps had stolen the vehicle for a joyride and damaged the vehicle beyond its fair market value – not hard to do, as this was a late model Pontiac Bonneville.  Fortunately, I had the right type of auto insurance that compensated me for my loss.
What happened to me that night was not an aberration of human behavior in Atlanta?  Typically, the higher the population, the higher the incidence of crime, particularly, in a large metropolitan city.  Unfortunately, car theft, break-ins and resulting property damage in retail shopping centers in Atlanta are on the rise.
Recently, the police provided data for break-ins at some of the largest malls in metro Atlanta that was recently reported by an Atlanta news station.
Here is the list of malls and the number of break-ins reported to the police in 2015:
Cumberland Mall: 140
Lenox Square: 105
The Mall at Stonecrest: 82
Gallery at South DeKalb: 57
Perimeter Mall: 52
Mall of Georgia: 50
Greenbriar Mall: 46
Phipps Plaza: 40
Sugarloaf Mills: 32
Arbor Place Mall: 24
Northlake Mall: 22
Town Center at Cobb: 18
Gwinnett Place Mall: 13
North Point Mall: 9
Santa Fe Mall: 7
As you can see, the largest retail mall in Georgia, the Mall of Georgia had almost 2/3 less break-ins than a much smaller mall, Cumberland, which took first place.  In other words, your odds of having your car broken into at Cumberland Mall is nearly 3 times as high as Mall of Georgia.  The police said that it takes about 30 seconds to break into your car and they recommend that you leave nothing in your vehicle that is visible (tinted windows or not) to the public.  Most folks do not follow this advice.
The question then becomes what type of auto insurance should you have in case of a break-in or theft of your auto.  To answer that question, you need to know that there are five (5) major types of insurance of car insurance coverage in Georgia that you can purchase:
Liability Insurance
Liability insurance, the most important coverage that is required by the State of Georgia, covers you when you are operating a (covered) car, which is involved in a collision or incident as the result of your fault or actions.  In Georgia, this insurance would cover the bodily injury caused to other persons in other vehicles or your passenger(s) as a result of your negligent conduct.  Liability coverage would also cover the cost of repairing damage.  However, this coverage would not cover a break-in or theft of your vehicle.
TIP 1:  Buy as much liability coverage over the Georgia minimum liability requirement as you can afford so as to insure and provide yourself with higher coverage in the case of serious bodily injury and property damage – damage that you may otherwise be personally liable for in an incident.  Be aware that there are some pretty expensive vehicles on the roads in Georgia that would be quite expensive to repair.
Collision Coverage
This type of coverage will pay for repairs to your car in a collision or incident.  In situations where the damage to your car is higher than the value of your car, this coverage will pay you the fair market value of your car.   However, this coverage would not cover a break-in or theft of your vehicle.
TIP 1:  If you have an older model vehicle (pre-2007) with high mileage (over 100K), then this coverage may not be financially warranted for you.
Comprehensive Coverage
This type of coverage will cover damage to your vehicle that is NOT related to a covered accident or collision. In that sense, this coverage is comprehensive in that it provides more coverage for your vehicle.  Some examples of damage would be striking a deer on the road, break-in or a stolen vehicle.  This is the type of coverage that would cover your vehicle in the unfortunate circumstance that it is broken into or stolen at the mall.
TIP 1:  I have this insurance coverage but it is not for everybody because the coverage can be quite expensive.  I think if you live a large metropolitan area that has a high incidence of theft or break-ins (like Atlanta), then this would be a prudent purchase.  Some if not all lienholders requires borrowers to have this type of coverage on a vehicle that is still under a note – in other words, you are still paying on the car.
Medical Payments
This coverage, which is not mandatory, applies irrespective of who is at fault for causing the collision or incident and would apply to the driver, as well as any passengers in your vehicle.  The coverage can be used to pay your hospital, medical and therapy bills up to the amount of your coverage.  Typically, I see coverage amounts in $1,000.00 – $5,000.00.  In Georgia, you are not required to reimburse your auto insurer (out of your settlement proceeds from an at fault driver) for medical payments paid out under this policy unless the auto insurer can prove that you have been completely compensated for all economic and non-economic damages incurred as a result of the collision.  If you have questions regarding this wrinkle in Georgia law, then please contact an experienced personal injury attorney.
TIP 1:  The cost of this coverage is extremely reasonable and I would purchase at least $50,000.00 in coverage.  I purchased $100,000.00 worth of coverage on all of my vehicles.
Uninsured (UM)/Underinsured (UIM) Motorist Coverage
Ok, here is the rub regarding mandatory minimum liability insurance coverage in Georgia – not everybody buys it OR continues to pay it every month.  The problem is that you, the innocent motorist, pedestrian or passenger, will not know that the driver is without coverage or adequate coverage until after the collision or covered incident.  Furthermore, even if the driver has minimum liability coverage, your bodily injury and/or property damage expenses may exceed the minimum coverage.  Moreover, if more than one person or property was damaged, then the minimum coverage of the at-fault motorist may be depleted quite quickly without fully compensating any person(s).
In situations like these, it is best to have uninsured (covers situations where the at-fault driver does not have liability coverage) and underinsured (at-fault driver has inadequate liability insurance) coverage to protect you.
TIP 1: In greater Atlanta, it is not uncommon to find unlicensed and/or illegal immigrant motorists that do not have liability coverage.  I recommend that you purchase as much UM/UIM coverage as you can afford, as it is relatively inexpensive.
Now, that you know the five types of auto insurance in Georgia and how they apply to certain auto incidents, you will be in a better position to make an intelligent decision on which types to purchase and utilize in the future.  If you are ever injured in a car as the result of the fault of someone else and have any questions regarding your car accident report OR want to run something by an car accident attorney that was listed as a Super Lawyer in Georgia, then please feel free to contact me and I will be glad to help you.
The Law Offices of Kevin C. Ford is currently accepting car and truck collision and pedestrian injury cases throughout Georgia. If you or a loved one has been injured as the result of the negligence of a negligent driver, then please contact us today for a free consultation and evaluation of your case.  We have over 24 years experience and practice throughout the State of Georgia and can come to you.  Please call 404-869-6969 or use our toll free number (855) LAW-FORD to secure your rights today!