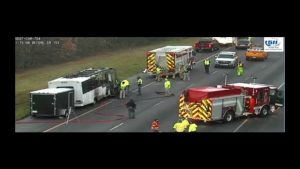 This morning, a motorist, Javarius Exum, (25), was in a stopped 2009 Dodge Charger on I-75 North in Henry County, Georgia. For reasons unknown, Mr. Exum stopped his vehicle in the far right hand lane of I-75 North.  The AJC article indicates that the vehicle was disabled – yet, I suspect that is an assumption at this point.
(Photo credited to Georgia Department of Transportation)
A passing motorist noticed Mr. Exum's stopped vehicle, called 911 at approximately 4:18 a.m., and notified authorities that the Dodge only had brake lights activated.  Roughly, three minutes later, a bus from Tennessee that was also traveling northbound was unable to get into the left lane (to the left of Mr. Exum) and struck Mr. Exum's vehicle from the rear.
The impact and force from this collision was so great that it pushed Mr. Exum's vehicle across all northbound lanes to the far left emergency lane.  Consequently, Mr. Exum's vehicle and the bus caught fire.  Mr. Exum did not survive this tragedy and the bus operator escaped with minor injuries.  The article does not indicate that the bus driver was cited for any violations of the rules of the road.
Under O.C.G.A. 40-6-203, Georgia motorists shall not stop or park a vehicle on any roadway, including a controlled access highway.  However, this law is not applicable to disabled vehicles that become disabled in such a manner that it is impossible to avoid stopping on the roadway. O.C.G.A. 40-6-204.  It is not clear from the article as to the reason(s) why Mr. Exum stopped his vehicle or whether or not his vehicle was immediately disabled such that it would be exempt under O.C.G.A. 40-6-204.  It may be that Mr. Exum's car ran out of gas or that his vehicle had an electrical/battery issue.  However, we know that his brake lights were working at or near the time of the crash; thus, I believe that Mr. Exum's car may have run out of fuel.   A motorist whose vehicle runs out of gas and allows his/her vehicle to stop upon the roadway would most likely be subject to a citation under O.C.G.A. 40-6-203 – the argument would be made that the driver knew or should have known his/her gas level from simply looking at the gas gauge in a 2009 vehicle.
From a liability perspective, I do not believe that the bus driver will be cited for causing the wreck.  Of course, that doesn't mean that Exum's family (estate) would be precluded from pursuing damages against the bus motorist or the bus company for wrongful death and related damages.  Discovery completed after suit may very well uncover evidence supporting the family's claim against the bus driver.  In any event, we give our condolences to the Exum family regarding this tragedy.
If you are injured as the result of the fault of a driver who collides into your vehicle from the rear, then you may be entitled to compensation for damages under Georgia law.  Typically, damages would include the following: 1) payment for medical/therapy/physical treatment for injuries; 2) payment for repair (and possibly diminished value, if the vehicle is less than 7 years old and has a fairly clean history of prior impacts) of the vehicle or payment of fair market value if the vehicle cannot be repaired; and 3) compensation for past, present and future physical/mental pain and suffering due to the injuries.  However, other damages could be available based on your personal experience and fact pattern.  It is important you that you contact me as soon as you can to learn the full extent of your rights under Georgia law.
Please note that the Law Offices of Kevin C. Ford is currently accepting wrongful death, car accident and collision cases throughout Georgia.  If you or a loved one has been injured as the result of the negligence of a motorist, then please contact an experienced attorney for a free consultation to document and preserve evidence and present your claim in a competent and timely fashion. We have over 20 years experience and practice throughout the State of Georgia and can come to you. Please call 404-869-6969 or use our toll free number (855) LAW-FORD to secure your rights today!