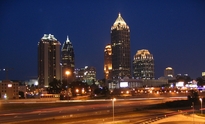 Allstate Insurance recently completed an analysis of the best drivers in America by reviewing the frequency of property damage caused by drivers insured by Allstate from 2013-2014.  The analysis and conclusions were published in a report that looks at the 200 biggest cities (as identified by U.S. Census Bureau's Annual Estimates) in the United States.  The purpose of the study was to contribute to the ongoing discussion of driving safely and attentively behind the wheel – particularly, as to the popular driving season in the summer.  For our purposes, the study concluded that Atlanta had some of the worst drivers in the country and that 183 of the biggest cities in the United States had safer drivers than us.  FYI, Boston was the worst with a rank of 200 – I think the haphazard road and highway configuration is to blame…. Brownsville, Texas had the safest drivers…
Of course, Allstate has a vested interest in the results of the study as Allstate's general aim is to take in insurance premiums from customers and minimize payouts to persons injured and property damaged by Allstate insured drivers.  As an interesting side note, I read that Allstate recently requested (from Georgia Insurance Commissioner – aka rubber stamp) and received a 25% increase in the premiums it charges in the State of Georgia.  And, sure enough, I checked the price of my renewal of office insurance policy and it increased exactly by 25%.
Some other general statistics gleaned from the study reflect that the average driver will be involved in a collision (there are no accidents – just negligence of behalf of the motorist) at least once every 10 years and that distracted driving causes 26% of motor vehicle collisions. Allstate polled more than 4,500 drivers and published some interesting statistics on distracted driving:  37% of motorists talk on the phone while driving; 39% of motorists say texting is largest contributor of distracting driving; 34.3% of motorists say their ability to talk on the cellphone or text while driving is poor (while less than 1% say it is excellent); 60.4% say texting and distracted driving is about as dangerous as driving under the influence of alcohol or drugs; and 35.7% of the motorists know someone who has been involved in a car crash caused by distracted drivers. For more information in a well-written blog on distracted driving, please click here, here, here and finally here.
I digress and was distracted…let me get back to Allstate's chart of the worst drivers:
2016 Best Drivers Report Ranking
ATLANTA (out of 200 of the largest cities)
Average Years Between Collisions                                           7.1
 –           Average big city is 10 years and safest city was 14.1 years
 Relative Collision Likelihood                                                      40.7%
   –           Safest was -31.4% (Brownsville, TX)
 2015 Best Driving Report Ranking                                            179
 2016 Ranking for unsafe drivers (out of 200)                        184
 Change In Ranking from 2015 to 2016                                       -5
  –           Largest change in ranking was St. Paul, MN (-50)
 2016 Ranking (after controlling for population density)      191
 2016 Ranking (after controlling for average annual rain)    182
 2016 Braking Events per 1000 miles                                            19.6
 –Highest was Philadelphia, PA with 33
The study reinforces my belief that there are some pretty bad drivers on the streets of Atlanta and that it is important to be attentive at all times.  Personally, I think the poll on distracted driving is eschewed, as I believe that more than 50% of the people in Atlanta drive while talking on their cell phone.  In fact, I see it every day at all hours.  The lesson to be learned from Allstate's comprehensive study is wear your seatbelt and drive defensively.
The Law Offices of Kevin C. Ford is currently accepting truck and car accident and collision cases throughout Georgia. If you or a loved one has been injured as the result of the negligence by a distracted motorist, then please contact an experienced injury attorney for a free consultation to document and preserve evidence and present your claim in a competent and timely fashion. We have over 25 years experience and practice throughout the State of Georgia and can come to you. Please call 404-869-6969 or use our toll free number (855) LAW-FORD to secure your rights today!