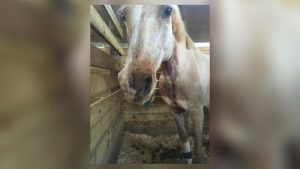 Last week, two pit bulls combined to go in for the kill on a horse in Gwinnett County.  Somehow, the pit bull dogs were able to enter into the corral on the premises of a Buford area home.  The owner, Barbara Horrobin, advised that her horse underwent over four hours of suturing the wound from injuries to the neck, throat and armpit.  Horrobin stated that "[i]t was gruesome."
I am not surprised at seeing yet another pit bull attack in Georgia.  The pit bull breed is still a popular choice among Georgia residents.  The more pit bulls in an area, the higher likelihood of an attack.
In this case, the pit bulls were prowling for a victim off their owner's land and attacked without being provoked, teased or physically touched in any way.  Can you imagine if the two pit bulls went after a young child or baby?  It would most likely have led to the death of a human.
Pit bulls have a deserved reputation for the following characteristics: bred to fight; strength; jaw strength; tolerance of pain; attacks on people; and impossible to stop once an attack has commenced.  It is no surprise that many cities across the United States have banned pit bulls.
I stay busy with dog bite attack cases in Georgia and am quite experienced both in the law and strategy to win these cases.  Such attacks can occur in the home, restaurant, airplane or public places. If you or a loved one has been bitten by a dog, then please contact an experienced dog bite lawyer.  The Law Offices of Kevin C. Ford currently accepted dog bite and animal bite cases throughout the State of Georgia.  Please contact us today for a free consult regarding your legal rights and discussion of your particular set of facts.