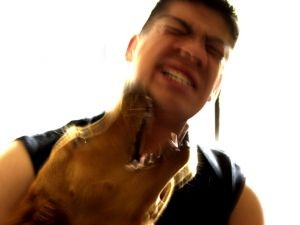 My client was 37 years old, recently separated, and a manual laborer who was in the wrong place at the wrong time.  Initially, my client was working on his wife's car in the street when he decided to take a break and chat with his neighbor.  A short time later, the neighbor's wife opened the front door and my client could see and hear that she was yelling at her two dogs to keep back from exiting the front door.  She was successful the first time.  Subsequently, she opened the door to walk down and give her husband a sack lunch.  However, this time, the two dogs rushed out the front door.
The dogs headed straight for my client who was in the street.  As he saw two rushing dogs, he attempted to jump up on the trunk of another neighbor's car.  On his third attempt, the white (female) dog nipped at his pant leg which caused my client to slip and fall to the asphalt below squarely on his right elbow.  As he was down on the ground, he noticed that the second (male) dog was about to bite his face so he threw up his left forearm in defense which was promptly bitten by the black dog.  It took the owners over fifteen (15) minutes to get both dogs back into the house.  According to my client, the dogs were growling at the owners as well during this process.
My client drove himself to the hospital where his injuries were cleaned, a tetanus shot was provided and an x-ray was taken of the right elbow.  Fortunately, there were no fractures or stitches and the dogs were later found to be vaccinated against rabies.  Yet, the pain continued and worsened in his right elbow and left triceps area.  My client went back to the same hospital about a month and ten days later as fluid and swelling in his right elbow was causing limited range of motion and pain.  At the second visit, the hospital performed another x-ray, provided another prescription and discharged my client. The prescriptions were never filled due to the cost and over the counter NSAIDs were purchased.