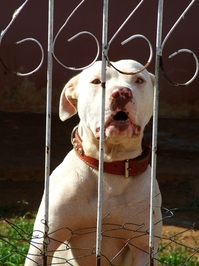 The American pit bull terrier, better known as the pit bull, has an extensive background of unprovoked attacks on animals and humans alike.  Some are deadly.  Unfortunately, that was the case yesterday when a pit bull (and a border collie that is missing) attacked two children on Cerro Street in Atlanta as the children were walking unattended to school.  There were actually three children but only two were attacked.  The young boy who passed away from his injuries was Logan Braatz (6) and the injured girl was Syari Sanders.  The news story regarding the attack seemed to imply that the boy was beyond help at the scene. The young girl is still treating at the hospital and was listed in stable condition.
Fulton County Animal Control arrived at the scene as did the police.  The story implies that one dog was shot by officers and that one dog is still missing.
Typically, a pit bull will attack at the most vulnerable part of the body, be it human or dog, and that is the neck.  The strength and pounds per square inch (PSI) of a pit bull bite is off the charts. Once a pit bull has attached, it is very difficult to get the dog to release. In some attacks, folks have positioned a wrapped up thick bath towel and moved it in position of the pit's mouth to replace the animal or human that is being attacked.