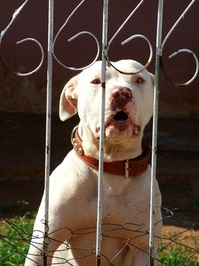 Recently, I settled a dog bite claim for $50,000.00 on behalf of a deserving client after filing suit in State Court of DeKalb County. The attack occurred in Waterford neighborhood which is located in Dunwoody – a suburb of Atlanta. The neighborhood was built back in the 1970s and has over several hundred homes. I consider it to be a large neighborhood. And, a lot of the neighbors own dogs – the majority of which are competent and responsible dog owners.
Our dog bite attack occurred back in the fall of 2018 and involved an unleashed grey/white male pit bull/Great Dane mix that had escaped through an open gate in the owner's backyard. The dog immediately ran down toward the street and my client who at the time was walking her leashed two small dogs on the sidewalk. My client saw the pit bull and immediately picked up her smaller dog and attempted to walk away. However, the pit bull continued to circle her and my client was constantly moving in a circle to keep an eye on the pit. In the process of attempting to protect herself, she fell down upon the roadway. She was not sure if the pit had knocked her down or if she fell of her own accord onto her shoulder. When she attempted to get back on her feet off the ground, the pit started to bite her ankle when she was at her most vulnerable. The pit bit holes through her pant leg and socks and caused several dog puncture bite wounds to her ankle. My client was screaming from the pain but was able to get on her feet when the pit started to come back toward her to commence another attack.
My client was able pull out her pepper spray and sprayed the pit in the face which caused the pit to run back inside the fence of his owner. A fellow neighbor witnessed the attack and was able to close the fence door. Several drivers had stopped their cars in the roadway and witnessed the event – although, none got out to help. Allegedly, the owner of the pit was not home at the time of the attack and the pit had no previous history of attacks. DeKalb County Animal Services ordered that the pit be quarantined at home. Until there was confirmation of rabies vaccination for the pit, my client was on pins and needles.
I mailed out over 20 letters to neighbors in the area of the attack in an effort to discover information about this dog and any prior incidents/attacks. I did not receive a single response back from any of the neighbors.
My client sustained small scars on her ankle from the bites and a torn rotator cuff in her shoulder for which surgery was recommended by her treating orthopedist. She treated with several health care providers/physical therapists over several months and continues to see her orthopedist. The pain in her ankle/calf last 3-4 months; pain in her right knee lasted 4-5 months and her pain in her shoulder is ongoing. Further, as a result of this attack, my client has had ongoing nightmares about the incident and continues to experience sleep deprivation.
We sued the owner of the pit bull for violations of Georgia law and for violations of the ordinances of Dunwoody, Georgia and DeKalb County, Georgia and resulting damages. The owner was required to keep his dog leashed and under restraint and control so as to prevent the dog from running loose in the neighborhood so as to protect fellow neighbors from injuries from the dog under DeKalb County Ordinances 5-4 and 5-5 and City of Dunwoody Municipal Ordinances 6-5, 6-6, 6-7 and 6-8. The owner violated these provisions and was guilty of negligence per se under Georgia law.
To those that read this post, I ask you to consider to start and/or continue to share information regarding vicious and dangerous dogs in your vicinity with your neighbors on the  NextDoor application.  By doing so, you make your neighborhood a safe place for children and adults.  From my experience, it only takes a second for a dog to attack which could kill and/or change a person's life forever.  By sharing this information with your neighbors, you make it harder for incompetent and irresponsible dog owners from avoiding and breaking the law regarding responsible pet ownership in Georgia.
If you have any questions regarding injuries and damages regarding a dog bite, please contact an experienced dog bite lawyer.  I have been practicing in this area of law for quite some time and would be happy to provide you with a free consultation regarding dog bite law in Georgia.
The Law Offices of Kevin C. Ford currently accepted dog bite and animal bite cases throughout the State of Georgia.  Please contact us today for a free consult regarding your legal rights and discussion of your particular set of facts.