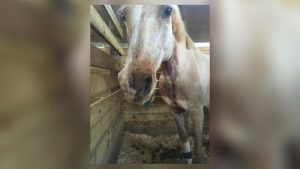 Last week, two pit bulls combined to go in for the kill on a horse in Gwinnett County.  Somehow, the pit bull dogs were able to enter into the corral on the premises of a Buford area home.  The owner, Barbara Horrobin, advised that her horse underwent over four hours of suturing the wound from injuries to the neck, throat and armpit.  Horrobin stated that "[i]t was gruesome."
I am not surprised at seeing yet another pit bull attack in Georgia.  The pit bull breed is still a popular choice among Georgia residents.  The more pit bulls in an area, the higher likelihood of an attack.
In this case, the pit bulls were prowling for a victim off their owner's land and attacked without being provoked, teased or physically touched in any way.  Can you imagine if the two pit bulls went after a young child or baby?  It would most likely have led to the death of a human.