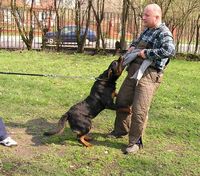 Yet another dog attack in Georgia last week (August 1) resulted in the death of a 20-month old baby in Athens, and the subsequent arrest of the grandmother, Sandra Adams, and dog owner on several felony charges. The grandmother was allegedly in the backyard with the child when the two pit bulls came out of the back door and knocked the grandmother to the ground before mauling the small child. According to reports from the Georgia Bureau of Investigation, Adams had been cited on multiple occasions about maintaining "disorderly animals." Although more facts would be necessary for making any determination regarding Adams' criminal culpability for the incident, her previous citations for maintaining disorderly animals would likely be sufficient to subject her to civil liability.
In Georgia, a dog owner is liable for harm caused by the animal where the owner had knowledge of the animal's propensity for violence. Such knowledge can be demonstrated by a variety of incidents, including the existence of a previous attack or even an unprovoked, attempted attack. For more information on updated Georgia law and dog attacks, please visit my blog.
While the specific circumstances surrounding the citations for maintaining disorderly animals remains unclear, it is unlikely that the citations were issued absent some event involving a third party complaining about the animals' behavior. Assuming that the citations involved some demonstration of violent behavior, in the eyes of the law Adams would have notice of the animals' propensity for violence sufficient to give rise to civil liability for the animals' actions.  Additionally, because Adams was acting in the capacity of a babysitter when the child was attacked, she owed a heightened duty of care to protect the child from harm. This heightened duty of care would increase the parents' likelihood of prevailing against the babysitter in a civil action. However, the familial relationship between the child and the babysitter-grandmother makes it difficult to hypothesize whether the parents will seek to sue the grandmother in civil court, especially considering the fact that the grandmother is facing criminal charges for 2nd degree murder and involuntary manslaughter.