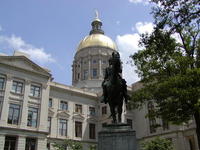 When an individual seeks compensation from a county for injuries or harm suffered arising from some county action or on a premises controlled by a county, the plaintiff must fulfill greater procedural requirements than are required in a civil action against another individual. One of these such requirements is presentment, or that "all claims against counties must be presented within 12 months after they accrue or become payable" or such claims will be barred by the statute. (OCGA § 36-11-1). The statute operates as a statute of limitations, restricting the time period in which a plaintiff will be entitled to seek compensation through a civil action against a county. Thus, in the context a physical injury, an injured plaintiff must provide the county with notice of any alleged claims within the proscribed one-year period.
In January 2012, Joe Leonard, Jr. allegedly sustained injuries while riding as a passenger aboard a Whitfield County Transit Services bus, and subsequently hired a lawyer to assist him in recovering from the county for the harms caused on the county-owned transit system. In June 2012, Mr. Leonard's lawyer sent a letter to Robert Smalley, a private attorney and County Attorney for Whitfield County, in an attempt to fulfill the presentment requirements set forth in OCGA § 36-11-1, as Mr. Leonard asked in that letter that Mr. Smalley accept the letter as presentment of Mr. Leonard's claims against the county. Then, in January 2014, Mr. Leonard filed a lawsuit against the County, and the County filed for Summary Judgment (a motion seeking dismissal of the claim) on the grounds that Mr. Leonard never properly presented the claim, and that his recovery was thus barred. The trial court granted the County's motion, which was affirmed by the Court of Appeals, relying upon the precedent established in Coweta County v. Cooper, which holds that presentment may be made to the county attorney, but only if the county attorney is employed "in-house."  Generally speaking, an in-house attorney would be an employee of the county.
In a win for plaintiffs, the Supreme Court overturned the Court of Appeals decision, based in part upon the purpose and object of the presentment statute. The Supreme Court asserted that the primary purpose of the statute was to provide the county officials with timely notice of all demands against the county. Numerous precedent established that presentment could be made to some officers of the county, as well as to the members of the governing authority itself, so the Court found it inconsistent with the purpose of the statute to prevent the county attorney from also being a party to whom presentment could be made. The Court of Appeals' attempt to draw a distinction between in-house and outside attorneys was rejected by the Supreme Court, holding that the precedent relied upon by the Court of Appeals was inapplicable to a county attorney.