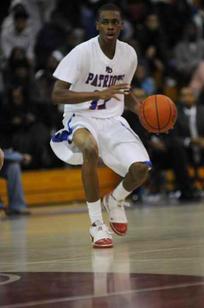 On October 8, 2011, a Gwinnett County high school basketball player and three members of his family died in an SUV rollover in Florida. Darrian George was a 17-year-old boy who played basketball for the Norcross High School basketball team. Eight people, including Darrian, were traveling down to Miami for the weekend. Only one of the eight persons was wearing a seatbelt.
According to the Atlanta Journal-Constitution article, Darrian was operating a 2002 Chevrolet Tahoe just before 3 a.m. and was traveling on I-75 South near Ocala, Florida, when he allegedly lost control of the vehicle causing the truck to travel across three southbound lanes of traffic and overturning several times until it came to rest on its hood in the northbound lane. Darrian took evasive action including braking and steering to the right in an unsuccessful attempt to gain control of the truck. However, the truck hit the median guardrail and overturned. Six of the eight persons in the SUV were thrown from inside the vehicle. Three people died including two children who were siblings and Darrian's mother, Tiffany Bradshaw.

Our prayers are with his family.
Two people, including Kurt George, father of Darrian, and Jacuine Barrow, received minor injuries. Erica Morris, mother in law to George, is listed in critical condition and Jaid Mendosa, 11, is listed in serious condition. The people who suffered fatal injuries died at the hospital.
Only the father, Kurt George, was wearing a seatbelt at the time of the wreck. The article from the Ocala, Florida newspaper is silent as to where Mr. George was seated in the SUV at the time of the incident and whether the air bags were deployed. In regard to 2002 Chevrolet Tahoe, I am not aware of any recall for seat belt related issues; although there have been prior complaints regarding the seatbelts in the 2002 Tahoe. I think it is safe to assume that the six persons who were ejected from the SUV in the rollover would not have been thrown had they worn their seatbelts at the time of the incident.
The National Highway Traffic Administration (NHTSA) estimates that 80 percent of all drivers claim to wear their safety belts while driving. The same organization also claims that seatbelt use saved more than 135,000 lives between 1975 and 2001. However, despite these statistics and state law requiring use of seatbelts, most people still do not use them. Why? Common excuses from passengers and drivers that fail to wear seatbelts include: seatbelts are uncomfortable; simply forget to use seatbelts; that seat belts are not required when a vehicle is only going a short distance; seatbelts not required because there is only light traffic; not wanting to get their clothing wrinkled; resentment at government interference in mandating seatbelt use; knowing someone who died wearing a seatbelt in a car collision; airbags take the place of seatbelts; never having gotten used to wearing seatbelts; and being in a hurry and not having time to buckle up.
Of the more than 40,000 automobile related deaths each year, experts estimate that half of the deaths could have been prevented simply by wearing a seatbelt. In Georgia, the seatbelt law can be found in O.C.G.A. 40-8-76.1, which mandates seatbelt use for the following: all front seat passengers and all minors 8- to 17-years-old in seats other than the front. Effective July 1, 2011, changes to the Georgia Booster Seat Law took effect, which require children under 8-years-old to be properly secured in an approved car seat or booster seat. Of note, it is also illegal under O.C.G.A. 40-8-79 for any person under 18-years-old to ride as a passenger in the uncovered back of a pickup truck on any interstate highway in Georgia.
In my experience in handling literally hundreds of car collision claims in Georgia, the evidence clearly shows that injuries are minimized and sometimes avoided by proper use of a seatbelt. From a legal perspective, the failure to wear a seat belt can lead to a citation and a fine.
The Law Offices of Kevin C. Ford has been handling failure to wear seat belt and rollover cases throughout Georgia for over 20 years. If you or a loved one has been injured as the result of a rollover or failure to wear a seat belt, then please contact attorney Kevin C. Ford for a free consultation. There is no risk or obligation for a simple phone call.