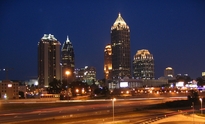 Allstate Insurance recently completed an analysis of the best drivers in America by reviewing the frequency of property damage caused by drivers insured by Allstate from 2013-2014.  The analysis and conclusions were published in a report that looks at the 200 biggest cities (as identified by U.S. Census Bureau's Annual Estimates) in the United States.  The purpose of the study was to contribute to the ongoing discussion of driving safely and attentively behind the wheel – particularly, as to the popular driving season in the summer.  For our purposes, the study concluded that Atlanta had some of the worst drivers in the country and that 183 of the biggest cities in the United States had safer drivers than us.  FYI, Boston was the worst with a rank of 200 – I think the haphazard road and highway configuration is to blame…. Brownsville, Texas had the safest drivers…
Of course, Allstate has a vested interest in the results of the study as Allstate's general aim is to take in insurance premiums from customers and minimize payouts to persons injured and property damaged by Allstate insured drivers.  As an interesting side note, I read that Allstate recently requested (from Georgia Insurance Commissioner – aka rubber stamp) and received a 25% increase in the premiums it charges in the State of Georgia.  And, sure enough, I checked the price of my renewal of office insurance policy and it increased exactly by 25%.
Some other general statistics gleaned from the study reflect that the average driver will be involved in a collision (there are no accidents – just negligence of behalf of the motorist) at least once every 10 years and that distracted driving causes 26% of motor vehicle collisions. Allstate polled more than 4,500 drivers and published some interesting statistics on distracted driving:  37% of motorists talk on the phone while driving; 39% of motorists say texting is largest contributor of distracting driving; 34.3% of motorists say their ability to talk on the cellphone or text while driving is poor (while less than 1% say it is excellent); 60.4% say texting and distracted driving is about as dangerous as driving under the influence of alcohol or drugs; and 35.7% of the motorists know someone who has been involved in a car crash caused by distracted drivers. For more information in a well-written blog on distracted driving, please click here, here, here and finally here.