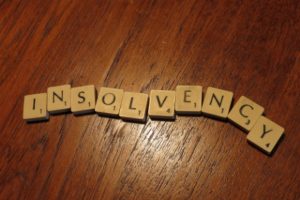 If you are reading this blog post, then it is probably because you received a letter from the Georgia Insolvency Pool regarding your bodily injury claim as a result of a car accident or workers' compensation accident. This blog will focus on the car accident injury claim.  Basically, the insurance company for the at-fault driver which is responsible for handling your injury claim is in bankruptcy or receivership as it no longer has enough assets (money) to pay for your injury claim.  Covered claims under the Georgia Insolvency Pool generally requires that the insured (at-fault motorist) be a resident of Georgia at the time of the car wreck when either the insured or third-party claimant (injured innocent victim) was a resident of Georgia at the time of the automobile collision.
Typically, the Georgia Insolvency Pool ("Pool") will request an affidavit from you that discloses contact and policy information regarding any other possible automobile insurance policy that could cover your injury claim (e.g. uninsured motorist bodily injury coverage on your own car policy) from the car crash besides the fault motorist's insurer which is now insolvent.
The reason for that is that the Georgia Insolvency Pool is trying to limit its exposure (save money) to pay you for the claim.  If you have other coverage besides the at fault motorist's insurer, then that other coverage becomes primary (pays first) and Georgia Insolvency coverage becomes secondary (pays second).   Under O.C.G.A. 33-36-14, your own insurance coverage (if applicable and existing – typically uninsured motorist bodily injury coverage under your own auto policy) must exhaust (pay out) its limits prior to any payment of your claim by the Georgia Insolvency Pool.  Moreover, the Pool gets credit for whatever the primary insurer pays to you.  And, your uninsured motorist bodily injury ("UMBI") carrier may be able to recover (rare) what it paid to you from the assets of the insolvent insurance company.
Be thankful for the Georgia Insolvency Pool as it provides another method for which you can still be paid for your injuries despite the fact that the at-fault motorist's insurer has limited assets or no money.  For example, I represent a client who was injured in a car wreck that caused by an insured of ACCC Insurance Company, a company which is now in liquidation. Prior to the liquidation, we knew that the negligent motorist had $25,000.00 worth of bodily injury insurance to pay my client. However, we received a letter from the Georgia Insolvency Pool that it will be handling my client's bodily injury claim.  The Pool wants an affidavit from my client to discover whether or not he has uninsured motorist bodily injury (UMBI) coverage that will cover his claim.  In our case, my client does not have this coverage so the Pool will remain the primary insurer.  However, if my client had UMBI coverage, then that coverage would be responsible for paying out its limits prior to the Pool being on hook.
Having your car accident injury claim included within the Pool does not change the amount of your bills or your injuries – however, it may change the value of the money that the Pool is willing to pay you for your claim versus the original at-fault motorist insurer.  That is no fault of your own. It is common knowledge and practice that the Pool will attempt generally offer less money.
IF YOU HAVE QUESTIONS REGARDING THE INSOLVENCY POOL
The Pool can be confusing and intimidating. If you have questions, please contact an experienced car accident lawyer regarding your rights and responsibilities under Georgia law.  The Law Offices of Kevin C. Ford regularly handles auto collision claims against the Georgia Insolvency Pool.  Contact me today for a free consultation regarding your specific facts.