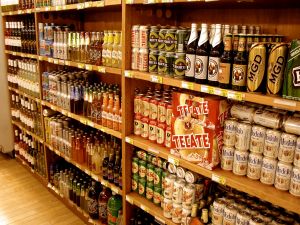 In a stunning move that has broad implications, the Georgia Supreme Court issued an opinion today in Flores et al. v. EXPREZIT! Stores 98-Georgia, LLC., et al., S10G1652, that found a Georgia convenience store was liable to the families of individuals killed and injured as the result of an intoxicated person who purchased beer at the store and subsequently caused an auto collision. The justices voted 6-1 (Judge Benham the lone dissent) and held that Georgia's Dram Shop Act, O.C.G.A. 51-1-40, applies when a store sells "closed or packaged containers of alcohol not intended for consumption on the premises to a noticeably intoxicated adult."
Previously, case law in Georgia never expanded the Dram Shop law to include grocery stores, convenience stores or mom-and-pop stores. For those who are unfamiliar with the definition of a dram shop, a dram shop is a shop (e.g. tavern, bar) that sells alcohol or liquor by the dram (a unit of measurement for liquid). Dram Shop law are statutes or laws that impose legal liability on businesses/establishments that sell alcohol to noticeably intoxicated persons who then cause injury or death to persons as a result of crashes or accidents that are alcohol related.
In the case before the Supreme Court of Georgia, Billy Joe Grundell drove to Exprezit! Stores 98-Georgia with his friend and bought a twelve pack of beer roughly four hours before the crash. The facts showed that Grundell was noticeably intoxicated at the time that the clerk sold him the beer. Grundell left the store, got into his vehicle and drove away consuming the twelve pack at a later point in time. Thereafter, Grundell crossed the centerline of a highway and crashed into a van traveling in the opposite direction. Grundell's blood alcohol concentration (BAC) was 0.181 grams per 100 milliliters which was equivalent to twice the legal limit in Georgia. As a result of the car collision, six people were either killed or injured.
The trial court and the Court of Appeals both agreed that the Dram Shop did not apply to the sale of closed or packaged alcoholic beverages that were not intended to be consumed on the premises of the shop. However, the Supreme Court interpreted the terms "sells, furnishes, or serves" alcohol to also include sales of alcohol at places other than taverns, bars and nightclubs inasmuch as convenience stores are indeed selling alcohol. The Supreme Court further found that one of the two optional exceptions in the Dram Shop law imposing legal liability applied to Exprezit inasmuch as the store's clerk furnished or served alcohol to a noticeably intoxicated adult (Billy Joe Grundell). The store argued that it had no idea that Grundell would soon be driving and that convenience store clerks have limited time to determine whether a customer was noticeably intoxicated at the time of sale.

I would assume that the public action committee (PAC) that represents convenience stores in Georgia will now be making phone calls, sending out mailers, knocking on doors and otherwise communicating with its business constituents in an effort to raise money to provide to Georgia senators and house members to amend the Georgia Dram Shop law to explicitly exclude convenience stores (and other premises where alcohol is not actually consumed) from its reach. What remains to be seen is whether or not the public servants of Georgia will remain immune to these actions and continue to protect innocent families, school buses full of children, church vans, workers in carpools, and other persons from intoxicated motorists who consumed alcohol purchased from a convenience store. Mark my words; it will be interesting legislative session next go around.
In the meantime, I would tend to think that resourceful convenience store owners will now educate their employees on the recognition of the signs of intoxication and install surveillance cameras that capture both sound and video at the point of sale and parking lot in an effort to minimize their potential liability. What appeared to be a somewhat conservative leaning Supreme Court (and probably still is) has made a progressive and activist legal opinion.
The Law Offices of Kevin C. Ford is currently accepting DUI and dram shop accident and collision cases throughout Georgia. If you or a loved one has been injured as the result of the negligence of a dram shop or drunk driver, then please contact an experienced DUI injury attorney for a free consultation.