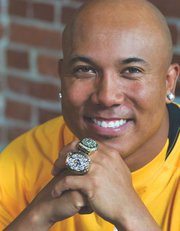 Hines Ward, current wide receiver for the Pittsburgh Steelers, was arrested early this morning in DeKalb County for driving under the influence (DUI). He previously played football at the University of Georgia from 1994-1997 as a tailback and wide receiver. If you are not a fan of football, you may have seen him dancing on Dancing With The Stars where his fleet feet won him the coveted mirror bowl trophy. My wife, a Georgia graduate, told me the details. In any event, he spent several hours in one of DeKalb County's finest facilities today.
The facts are somewhat sparse. However, Ward was booked in the DeKalb County Jail around 3:41 a.m. and released on a $1,000.00 bond. He allegedly told officers that he had been at a club in downtown Atlanta and had two drinks. The AJC reports that this is not Hine's first brush with the law in DeKalb County, Georgia as he was previously charged with reckless driving and speeding. Apparently, he entered into a plea bargain and pled guilty to speeding with the more serious charge of reckless driving being dismissed.
Allegedly, Ward was arrested for driving under the influence of alcohol. He failed a field sobriety test at the scene and refused to take a breathalyzer. In Georgia, the law mandates that a motorist shall not drive or be in actual physical control of a vehicle if the motorist was under the influence of alcohol, drugs or toxic vapor that makes it less safe to drive. Since Ward refused the breathalyzer, then under Georgia law his driver's license would be suspended for one year and the solicitor would be able to admit evidence of his refusal in court against him. However, Ward could request an administrative hearing on his license suspension.
Yesterday at 11:05 a.m., the day before his arrest, Ward posted on his official Facebook page that he was "bad" about driving and texting saying "I am bad at doing that. It's very unsafe. Help remind me from time to time to stop texting, tweeting, or facebook while driving. Let's help each other!" Fourteen minutes later, he wrote " I know it's dangerous. Trust me, I love my LIFE! But it's a bad habit I have. So let's help each other to knock my habit. And ladies putting on make up while driving is just as bad."
Ward's penchant to text and drive is a bit concerning inasmuch as he apparently resides in Sandy Springs, Georgia in the off-season and presumably is driving regularly on the roads in Georgia. Ward is but one of many motorists that text and drive. And the purpose of this blog is not to focus on Ward or to insinuate that he is a bad person. He's not. He is just human and makes mistakes as humans do. Rather, the issue should be focused on inattentive drivers on the roadways in Atlanta and Georgia.

In my blog, I have written several articles on the dangers of using a cell phone to dial or text while driving. In fact, one of the articles was on the DeKalb ordinance that assessed a fine against motorists using a cell phone which contributed to a car accident. I have not covered the issue of folks applying makeup while operating a car. However, Ward's facebook post brings up a valid point. Every morning I see Atlantans putting on makeup and taking furtive glances in the rearview mirror while actually driving a car. Not only does this exhibit poor time management skills, but is extremely dangerous as well considering the weight and speed of any vehicle.
Texting and driving is common. It is a cultural phenomenon with freedom loving Americans throughout the country. Laws, fines and punishment associated with this behavior will not curb it until society begins to accept the dangers related to this conduct. Several decades ago, Americans were not keen on mandatory seat belt use in vehicles. Today, seat belt use is wide spread. Times have certainly changed. As to driving while texting, let's hope it changes sooner rather than later.
The Law Offices of Kevin C. Ford is currently accepting DUI and car collision cases throughout Georgia. If you or a loved one has been injured as the result of the negligence of a drunk or negligent driver, then please contact an experienced car accident attorney for a free consultation.