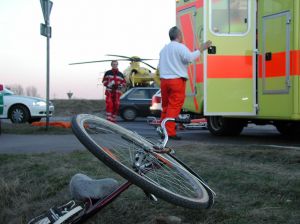 In Georgia, as it the case with most states, a bicycle is legally considered "a vehicle." This classification by Georgia means that general vehicle traffic law applies to the operation of a bicycle. Thus, any Georgia statute that applies to the term "a vehicle" (as opposed to "motor vehicle") applies to bicycles as well.
Despite the applicability of numerous general vehicle laws to bicycling, many motor vehicle motorists are still unaware of the laws. According to the Georgia Department of Community Health, over 795 bicyclists were involved in road crashes in 2007. Of the 795 crashes, 11 were fatal. Some of these crashes occurred by motor vehicles passing from behind the bicyclist.
On May 17, 2011, Governor Nathan Deal signed HB 101 (now known as O.C.G.A. 40-6-56) into law. In pertinent part, O.C.G.A. 40-6-56(b) mandates that "…the operator of a motor vehicle, when overtaking and passing a bicycle that is proceeding in the same direction on the roadway, shall leave a safe distance between such vehicle and the bicycle and shall maintain such clearance until safely past the overtaken bicycle." Subparagraph (a) of the same statute defines a safe distance as "not less than three feet." This statute became effective July 1, 2011. Previously, the law did not define a safe distance and left it to the courts and/or juries.
On July 4, 2011, Bryan Morgan, a 52-year-old Marietta man, was struck from behind by a Toyota Camry, while traveling southbound on Roswell Road near Hightower Trail in Sandy Springs, Georgia. As a result of the injuries, Mr. Morgan died the same day. According to the article in the Atlanta Journal Constitution, an investigation is pending and the motorist has not yet been charged by the police.
I think it is pretty clear that if Mr. Morgan was struck from behind (as the evidence suggests), then the motorist was not maintaining a distance of three feet or less. Apparently, Mr. Morgan's son was also riding a bicycle with his father at the same time. The testimony of the son may be crucial in determining whether or not the motorist maintained a safe distance under the new law that was enacted just several days before this tragedy. I would imagine that the Morgan family might also hire an accident reconstruction expert to review the property damage to the auto and bicycle as well as any witness statements, skid marks or other roadway evidence to aid in this determination.
Georgia Bikes, a nonprofit statewide organization located in Athens-Clarke County, works to improve bicycling conditions and promote safe bicycling throughout the state and was instrumental in lobbying and educating the legislature which was critical in getting the new bike law passed. The new statute was the first reform to Georgia's bike safety laws since the 1970s. However, the job of Georgia Bikes is not yet complete as the law is only as widely effective as it is widely known by motorists. I am honored to help spread the word.

Several other laws in Georgia were either enacted or updated toward improving bicyclists' safety. For example, O.C.G.A. 40-6-55 now provides that "…the operator of a motor vehicle shall yield to a person operating a bicycle in a bicycle lane." Under O.C.G.A. 40-6-291, any person riding a bike may (but is not required to) ride on a paved shoulder. The same statute provides that a biker "…may signal a right turn with his or her right arm and hand extended horizontally or with his or her left hand and arm extended upward." Lastly, O.C.G.A. 40-6-294 requires "[a]ny person operating a bicycle in a bicycle lane shall ride in the same direction as traffic on the roadway."
It is clear that 2011 marked a welcome change to the laws of Georgia regarding bicycle safety and operation of bicycles and vehicles on the roads in Georgia. Hopefully, this trend continues into the future. For those who wish to seek further information on bicycle safety, education, laws and resources, please visit Georgia Bikes.
The Law Offices of Kevin C. Ford is currently accepting bicyclist accident and collision cases throughout Georgia. If you or a loved one has been injured on a bicycle as the result of the negligence of a motorist, then please contact an experienced bicycle injury attorney for a free consultation.