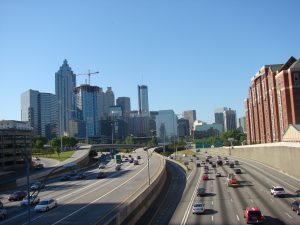 Governor Kemp's order for all Georgia residents to stay at home went into effect on April 3, 2020 which effectively allows Georgia residents to get outside for exercise, shop for groceries, seek medical help and to keep going to work at jobs deemed "essential."  Thus, the only motorists allowed on Georgia roads should be grocery shoppers, essential workers and persons seeking medical treatment.   As I look out my window from the office, I still see many motorists on Piedmont Road in Atlanta; however, daily normal traffic of approximately 35-40K+ cars on Piedmont Road has greatly reduced since enactment of the aforementioned order.
As there are motorists on the roads in Georgia, the possibly exists that some motorists may be involved in car collisions.  As a result of those car collision, drivers and passengers may be injured and require treatment.  But, where should persons as a result of car collisions treat in the Covid age?  I have heard that emergency rooms across Atlanta are accepting patients with life/death situations; whether or not injured motorists whose injuries do not rise to that level are being accepted at those hospitals is unknown.  Of course, the reality is that wait times at hospitals are increasing.
If a person injured as the result of a car wreck is unable to treat at the hospital, then there are other options for treatment including but not limited to, urgent care centers, pain management physicians, chiropractors, orthopedists and similar health care providers.  It is best to do your homework and Google or call different providers to see hours/times/availability to best care for your injuries.
Despite Covid-19, the car insurance companies, including but not limited to, Allstate, State Farm, Liberty Mutual, GEICO, Travelers, Farmers Insurance, Esurance, MetLife, American Century Casualty, Unique Insurance, Progressive Insurance, National General Insurance, State Auto Insurance, Infinity Insurance, Georgia Farm Bureau Insurance, Chubb, Amica, Auto Owners Insurance, Acceptance Insurance, Mid Century Insurance, Kemper Insurance, Cincinnati Insurance, Canal Insurance, Central Insurance, Dairyland Insurance. American Family Insurance, James River Insurance, Nationwide Insurance, Loya Insurance, 21st Century Insurance, Hanover Insurance, Safeway Insurance, AAA Insurance, PEMCO Mutual Insurance, CSAA Insurance Group, Hartford Insurance Company, Metlife Insurance, Great American Insurance, Assurance, Country Financial Insurance, Amica Mutual Insurance, NJM Insurance, Horace Mann Insurance, Clarendon Insurance, Aggressive Insurance, National Unity Insurance, Erie Insurance Group, West Bend Mutual Insurance, Electric Insurance Company and USAA Insurance are open and processing bodily injury claims for car and truck crashes/wrecks.   Most of the car insurance adjusters that I have been speaking to recently are working from their homes – occasionally, I will hear a dog, baby or kids in the background – I like the informality.  The point is that car insurance companies are processing car collision injury claims and paying claimants for property damage, property damage repair and bodily injury statewide in Georgia.
If car crash bodily injury claims are unable to get settled, then injured persons always have the option of filing suit against the at fault driver and take him/her to court to achieve compensation for injuries. Technically, the Courts are still open in Georgia – but not to the general public.  Currently, there is an order from the Georgia Supreme Court that has basically closed Georgia courts to the public which has been extended until May 13, 2020 and criminal trials and jury duty have been suspended statewide to minimize risk exposure to COVID-19.  It is certainly plausible that this Order may be extended upon its expiration. The important point is that car wreck victims still have the lawful option of presenting their bodily injury claims against the car insurance companies in Court.
The Law Offices of Kevin C. Ford have been open throughout Covid-19 and continue to be open seven days a week from 9 a.m. – 9 p.m.  Mr. Ford is available by phone and/or online via Zoom to confer with injured persons as the result of a car wreck statewide.  It is important to retain an experienced lawyer to help guide you through the claims process. I have successfully handled car accident cases all over Georgia for over 28 years.  I would be happy to speak to you about your claim so please contact me personally at your earliest convenience. I also offer free second opinions on car accident claims. Please call me today if you need help with your claim! Call 855-LAW-FORD or 877-CARS-911 to speak to me directly!
Stay safe and keep the faith……