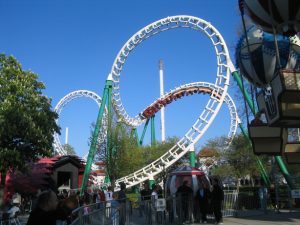 In the opinion filed on June 5, 2017, the Georgia Supreme Court found that Six Flags could properly be held liable for Joshua Martin's life-changing injuries sustained in a brutal attack at a bus stop outside Six Flags Over Georgia in 2007. The Supreme Court agreed with the Court of Appeals in that the jury was authorized to find Six Flags liable for the breach of duty, but disagreed as to the appropriate rationale for the finding. Mr. Martin's argument for recovery was based on a theory of premises liability, which is codified under Georgia statutory law, O.C.G.A. § 51-3-1, and states "where an owner or occupier of land, by express or implied invitation, induces or leads others to come upon his premises for any lawful purpose, he is liable in damages to such persons for injuries caused by his failure to exercise ordinary care in keeping the premises and approaches safe."
In premises liability cases the extent of the duty owed to the plaintiff depends upon the plaintiff's "status," or whether the plaintiff was an invitee, licensee, or trespasser. This inquiry is crucial in determining the degree of care owed to persons entering the premises. Invitees enter onto the premises based upon an express or implied invitation and for a purpose relating to the owner's interests or activities, and the owner has a duty to exercise reasonable care to prevent injuries caused by activities on his land. In this case, the jury found that Mr. Martin was an invitee, so Six Flags had a duty to exercise reasonable care to prevent injuries resulting from his presence on their premises.
The sort of injuries that owners must take reasonable care to prevent are classified as those which are reasonably foreseeable. To show that the type of injury suffered was reasonably foreseeable, injured plaintiffs will often show that other victims suffered the same or similar injuries in the past; that there was a high probability that such injuries would result; or that the injury suffered was one that would not have occurred but for negligent acts of the owner. In Mr. Martin's case, all three of the above indications of foreseeability were present. About one year prior to the attack on Mr. Martin, Six Flags was the site of a gang-related drive-by shooting, in which no employees of Six Flags who were injured would give a statement, presumably because of their gang affiliations. Thus it was not only foreseeable that an invitee could be injured because of gang activity on their premises, but it was highly probable.
However, Six Flags did not have a duty to ensure that no one ever got hurt; it need only take reasonable care to prevent foreseeable harm resulting from criminal acts. According to the facts set forth in the Supreme Court opinion, Six Flags did little to mitigate the risk of its invitees being subjected to gang-related violence. Witnesses testified at trial that the "majority of Six Flags' park employees were affiliated with one gang or another" and a Cobb County police officer indicated that because of gang "tags" in the male employees' locker room, Six Flags management should have been aware that many of its employees were gang members. Moreover, around 20 percent of the Cobb County Police Department's calls per day are within a two-mile radius of Six Flags.  And to add insult to injury, a Six Flags security officer testified that the park's security department lacked adequate resources and its security equipment and technology were wholly inadequate and underfunded. As indicated by the jury verdict, Six Flags did little to nothing to take any steps to prevent their invitees from suffering injuries as a result of gang violence.
Finally, the location of the attack raised another premises liability issue. The Court of Appeals ruled that the attack on Mr. Martin took place "entirely within Six Flags' 'premises and approaches.'" However, the Supreme Court disagreed, stating "Six Flags did not demonstrate the positive exercise of dominion over a public way or another's property [that] is necessary in order to avoid imposing upon invitors an unknowable and impossible burden for maintaining an undefined circumference of properties." In short, the Supreme Court refused to extend Six Flags' duty of care to encompass the bus stop. But, how then did the Supreme Court agree that Six Flags owed Mr. Martin a duty of care off of its premises, as the attack on Mr. Martin was "undisputedly a public bus stop" that was neither owned nor operated by Six Flags. The Supreme Court agreed with the Court of Appeals in that the jury could find that Six Flags breached its duty to exercise ordinary care in keeping its own premises safe, and that breach was the proximate cause of the injuries Martin sustained at the bus stop.
So what does this mean for the premises liability doctrine moving forward? The opinion indicates that premises liability will not necessarily be severed simply because the actual inflicting of injuries occurred outside the area over which the owner exercises dominion and control. It appears that where an incident is initiated on the premises, but fully "unfolds" in public lands, an owner may still be found liable if it is found that it failed to keep its own premises safe. In this case, if Six Flags would have taken affirmative steps to curb the amount of gang activity in and around the park, or at least taken steps to make its patrons aware of the risk, it may have been able to break the chain of causation. This opinion puts all business owners on notice that they can be held liable for harms suffered outside their business if affirmative steps are not taken to protect invitees from risks that the owners knew about, or should have known about.
In premise liability cases, it is important to contact an experienced personal injury attorney immediately to help safeguard important evidence from being destroyed, hidden or otherwise erased that could be used in court to successfully pursue the case.
The Law Offices of Kevin C. Ford represent clients throughout Georgia, including victims and their families who were injured in premises liability incidents. As such, the Law Offices of Kevin C. Ford is currently accepting slip and fall, trip and fall and negligent security cases throughout Georgia. If you or a loved one has been injured as the result of the negligence or fault of an owner of property, then please contact an experienced personal injury attorney immediately for a free consultation. Mr. Ford can help clients obtain monetary compensation necessary to pay for past, present and future medical care and provide for a fresh start. Please contact us today for a free consultation.