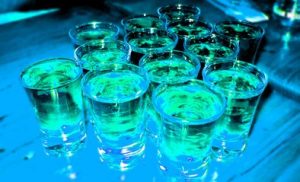 In Olevik v. State, the Supreme Court of Georgia (on October 16, 2017) held that the Georgia Constitution prohibits law enforcement officials from compelling a person suspected of DUI to "blow their deep lung air into a breathalyzer." The protection against self-incrimination enshrined in the Georgia Constitution, and in Georgia case law dating back to 1879, differs from the United States Constitution, as the latter only provides protection for individuals against incriminating themselves through testimonial evidence.  Tangible evidence, such as the results of a breathalyzer test is not protected by the self-incrimination provision of the 5th Amendment.
Georgia law has a two tier DUI statute under which an individual who operates a motor vehicle under the influence of drugs or alcohol can be charged. First, a person is guilty of "DUI per se" when he or she operates a motor vehicle with a blood alcohol content ("BAC") of 0.08 grams or more. Moreover, regardless of BAC, it is unlawful for a person to drive under the influence of alcohol or drugs to the extent it is less safe to do so. The latter is commonly known as "DUI less safe." This two tier statutory framework reflects the Georgia legislature's belief in the importance of combatting drivers who get behind the wheel while under the influence of drugs or alcohol. However, the enforcement of this important policy requires cooperation from the suspect, as determining whether a driver is under the influence requires field sobriety and chemical tests of the driver's breath, blood, or urine. So, to elicit cooperation from potentially impaired drivers, Georgia enacted an implied consent statute which provides that drivers have agreed to submit to chemical testing as a condition of receiving a driver's license, and that a person's driving privilege will be suspended if he or she refused to take a chemical test after being arrested for a DUI offense, or having been involved in a traffic accident resulting in serious injuries or fatalities.
Mr. Olevik was arrested and charged for DUI, and after the trial court rejected his motion to suppress the breath tests on the basis that the he was coerced into taking the test in violation of his right against compelled self-incrimination, Olevik was found guilty of the charges following a bench trial. Olevik appealed the denial of his motion to suppress the breathalyzer results, but the Supreme Court of Georgia ruled that his claims were precluded by earlier case law. However, at oral argument Olevik's attorney requested that the court reexamine whether the precedent remained good law. Specifically, the Supreme Court held that Klink v. State was wrongly decided to the extent that it "concluded that a breath test did not implicate the state constitutional right against compelled self-incrimination."
The Supreme Court also rejected Olevik's claim that the language of the implied consent notice, which is read to individuals to inform them of their right to refuse to submit to a breathalyzer test and subsequent consequences for any refusal, rendered his consent invalid. The rejection of Olevik's claim was based on the Supreme Court's interpretation of the Fourth Amendment to the United States Constitution and Paragraph XIII of the Georgia Constitution, which permits warrantless breath tests as searches incident to a DUI arrest. Because the search incident to arrest exception to the warrant requirement in the Fourth Amendment applies to breath tests, "there is no need to obtain consent for a breath test to support a warrantless search" after a valid arrest. Thus, even if the implied consent notice was coercive, "securing a breath test after arrest based on reading the implied consent notice would not violate the Fourth Amendment, because the warrantless breath test is permitted as a search incident to arrest."
However, the Court recognized an important distinction between compelling a suspect to perform an act that generates incriminating evidence and compelling a suspect to be present so that another person may perform an act generating such evidence. The Court found that a breathalyzer test qualifies under the former, as it requires "sustained strong blowing into a machine for several seconds" and "requires a suspect to breathe unnaturally for the purpose of generating evidence against himself." In sum, for the State to be able to test an individual's BAC, "it is required that the defendant cooperate by performing an act" and compelling a defendant to perform an act that is incriminating in nature is prohibited by the Georgia Constitution. Moving forward, law enforcement officers will have to consider whether a suspect has validly waived their right against self-incrimination under the totality of the circumstances, as compelled breathalyzer tests will be inadmissible against the defendant without such a waiver.
The Law Offices of Kevin C. Ford represent clients throughout Georgia who were injured or lost a loved one in car crash and truck accidents that were caused by a motorist under the influence of alcohol (DUI) or drugs. Further, we take on cases of pedestrians injured by motorists. As such, the Law Offices of Kevin C. Ford is currently accepting drunk driver, car and pedestrian crash cases throughout Georgia. If you or a loved one has been injured as the result of the negligence or fault of a drunk or negligent driver, then please contact an experienced car accident attorney  immediately for a free consultation. Mr. Ford can help clients obtain monetary compensation necessary to pay for past, present and future medical care and provide for a fresh start. Please contact us today for a free consultation.