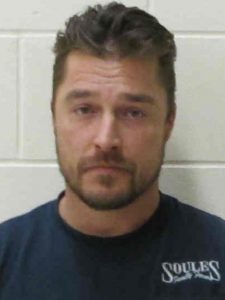 I was recently alerted to a DUI incident involving a celebrity and thought it would be an interesting addition to my blog.  From my cursory investigation, most of the information regarding this incident is listed on Radar Online; a site mostly dedicated to celebrity gossip and related issues. After reviewing this incident, the facts revealed that the celebrity had a long criminal history that demonstrated a pattern of drinking alcohol while operating a vehicle, fleeing accidents and failing to render aid to the victim. As such, the facts of the recent crash and criminal history are ripe for a legal analysis.
On April 24, 2017, Chris Soules, a former contestant on The Bachelor, was involved in a hit and run while operating his 2008 Chevrolet Silverado in the small rural town of Aurora, Iowa.  The area of impact was on a roadway which was straight without any possible visual obstruction. Specifically, Chris Soules was operating a large truck that rear-ended a tractor being operated by Kenneth Mosher.  Chris Soules got of his vehicle to check on Mosher (and attempted CPR) and called 911 around 8:20 p.m.  The 911 recording reflects a frantic Chris Soules noticed blood
(booking photo credited to Special To The Register)
coming from the mouth of Mosher.  Chris Soules later left the scene of the collision (and Mr. Mosher) before the police arrived and was picked up on the side of the road by a mysterious motorist in a red truck.  Alcoholic containers were found at the scene and apparently in Soules' car. He was later arrested at his home.  A blood and urine sample was taken from Chris Soules several hours after the wreck and the results have not yet been released. Unfortunately, Mosher died from his injuries sustained in the wreck.  Chris Soules was not arrested until after the police presented a search warrant.  The police secured his cell phone after the arrest. A timeline of the events can be found here.
Conspiracy Theories To Escaping Criminal Liability
(Disclosure: purely a work of fiction and not fact)
Soules may have called his legal representative from the scene of the collision. The content and substance of any such communication(s) would be privileged and not discoverable.  A review of Soules' cell phone records could indicate if any calls were made to a legal representative – before or after he left the scene of the collision.  In any event, why would a grown man leave the scene of a collision with a seriously injured victim – particularly, if Soules was not under the influence of alcohol as his legal team so earnestly contends in the news?
An unidentified driver picked Soules up from the scene and took him to someone's home – perhaps to Soules' home.  Again, Soules' cell phone records can be checked to determine every person that he called before he left the scene of the collision.  However, he may have directed someone else to call another person to pick him up from the scene.  In that case, the investigation could focus on every individual that Soules called from the scene and review any and all calls made by that recipient of Soules' calls to identify the driver of the vehicle that transported Soules to the house.
Once at the home, Soules could have started to drink alcoholic beverages in rapid succession. If in fact, Soules was at home for over 3-5 hours before police arrived, then he could have imbibed alcohol over that period of time that would certainly raise the percentage of any preexisting alcohol in his system.  The facts show the 911 call was at 8:20 p.m. and Soules was later booked into jail around 1:16 a.m. Since there may not be any evidence to the contrary, Soules could argue that he did not drink any alcohol on the day of the collision until after the collision – when he was sequestered in this home.  Consequently, he was not under the influence of alcohol at the time of the wreck. An investigation could be made as to when/where/why/whom owned this house and why it was made available to Soules.
Soules refused to come out of the house until the police obtained a search warrant from the judge. Soules fancies himself as a "farmer" in Iowa.  A farmer would probably not know to request a delay in the investigation and search of his person by demanding a search warrant that would take over several hours to procure.  A delay in obtaining a blood test to determine BAC (blood alcohol content) may affect accuracy of the result.
Soules is not compelled by law to testify against himself under the 5th Amendment.  Consequently, he is protected from divulging communications, actions and omissions that may lead to his incrimination at trial.  In fact, I doubt that Soules will agree to testify in his own defense in this criminal case.
At this point, Soules has only been charged with leaving the scene of a fatal crash that is a class D felony. Consequently, he could face up to 5 years in prison if convicted on that charge. I do not know Iowa law.  However, if the investigation unveils facts that Soules was under the influence of alcohol and caused the unlawful death of Mosher, then I would think additional charges would be sought, including operating a vehicle while intoxicated and voluntary manslaughter. Voluntary manslaughter is a class C felony carrying 10 years in prison. Manslaughter and leaving the scene would carry a possible combined prison sentence of 15 years.
Where there is smoke, there is fire.  If that is true, was this house smoking?  Is there any discernible reason why an individual would take the above-described actions to protect him from prosecution?
Soules Past History And Impact On Any Civil Lawsuit by Mosher's Estate
The estate of Mosher can and probably will file a civil lawsuit against Soules for wrongful death and seek all available damages and relief under Iowa law.  Depending on Iowa law, the estate could also seek punitive damages against Soules for causing a fatal hit and run collision.  Punitive damages are not meant to compensate but to punish. Such damages are not dischargeable in bankruptcy.  Punitive damages can be quite high when the defendant has a past history that reflects a pattern of operating vehicles under the influence of alcohol.  Let us look at the past criminal history of Soules to see if we can discern any such pattern.
November 27, 2005
Chris Soules had a prior DUI in 2005 in Fayette County, Iowa. According to that DUI report, Soule was found by police passed out at the wheel (accompanied by the strong odor of alcohol) with his car running.  He failed his field sobriety tests (FST) at the scene and his BAC result through intoxilizer (hand held device) at the scene was .08.  After he was booked into the jail, a blood test accurately analyzed his BAC as .200 (about 8-9 drinks depending on your weight).  He was found guilty and sentenced to serve 60 days in jail as well as 12 months probation and DUI driving class.
February 22, 2002
Soules was arrested for causing property damage with his vehicle and fleeing from the scene of the collision as well as failing to stop at a stop sign.  Allegedly, he failed to check on the condition of the other motorist.
 August 4, 2001
 On August 4, 2001, Soules received a citation by the police for having an open container (alcohol) while operating his vehicle.
April 6, 2001
Soules was fined and cited for possession of alcohol while being under the age of 21.
This is just a brief review of a sampling of the criminal history of Chris Soule. Yet, it is more than enough to show that he has a history of DUI, alcohol, and fleeing the scene of a collision without regard to the condition of the victim.  This history may be admissible at any civil trial to show a pattern that may be punished by the imposition of punitive damages.  Irrespective of this prior history, evidence will be introduced at civil trial reflecting that Soules fled the scene (and his victim) along with his BAC results which may be enough to warrant punitive damages.
Please note that the Law Offices of Kevin C. Ford is currently accepting car accident and wrongful death cases throughout Georgia, including collisions caused by a distracted driver. If you or a loved one has been injured as the result of the negligence of a motorist, then please contact an experienced attorney for a free consultation to document and preserve evidence and present your claim in a competent and timely fashion. We have over 25 years experience and can come to you. Please call 404-869-6969 or use our toll free number (855) LAW-FORD to secure your rights today