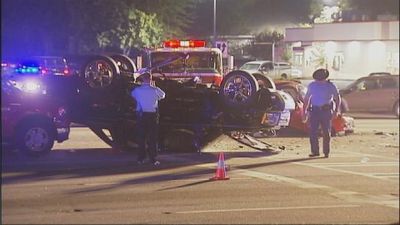 The City of Austell, Georgia has a population of approximately 6,581 according to the 2010 Census. It is located within Cobb County and is strategically located near I-285 and I-20. Traffic accidents, car collisions and wrecks are handled inside the city by the Austell Police Department and within the county by Cobb County Police.
On Thursday, July 26, 2012, yet another high-speed car chase took place within Greater Atlanta and specifically within Douglas County, Georgia. Recently, another high-speed car chase involving an Atlanta Police Department police officer resulted in a fatality and the termination of the employment of the officer. Another recent car chase in occurred in Atlanta that resulted in the death of the motorcyclist. It seems as if high-speed car chases and resulting car accidents and auto collisions are becoming more prolific throughout Greater Atlanta.
Flash back to last Thursday in Austell, Georgia. The motorist of the offending vehicle, Jeremiah Mathis, 30, of Atlanta, had several outstanding unrelated criminal warrants on him from several different Georgia counties. Although one article is unclear as to the genesis of the chase, one can assume that the Douglas County Sheriff either determined through a vehicle tag check or witnessed an improper traffic maneuver that resulted in a high-speed car chase throughout Douglas County. According to another article, Mr. Mathis was speeding.
On Thursday evening, Mathis had been speeding in a Chevy Aveo, a subcompact vehicle, with four passengers, including two children – one of which was a front seat passenger. Austell police began to chase Mathis throughout Douglas County. At the intersection of Thornton Road and Maxham Road in Austell, Mathis struck a Chevy Avalanche, a five or six passenger heavy SUV, and caused the Avalanche to flip and roll into a third vehicle.

A witness, Donnie Gaylor, stated that he had "…seen the Avalanche fly through the air." A relative of the driver of the Avalanche, Marthe Douze, came to the scene to check on her family. Fortunately, the operator of the Avalanche was treated and released. Four people in Mathis' Aveo were transported to the hospital and treated.
The children, Tavvorius Thompson, 11, and Treveion Thompson, 5, went to Children's Healthcare of Atlanta Scottish Rite and Grady Hospital, respectively, with injuries. The driver of the Aveo, Jeremiah Mathis, was taken to Grady as well. The article did not discuss if anyone in the third vehicle was injured.
The Austell police handled the chase. The Douglas County Sheriff handled the resulting traffic control and the Georgia State Patrol worked the crash investigation. Consequently, the Georgia State Patrol will handle the investigation and the Austell Police will handle the criminal charges against Mathis.
In total, the passengers of Mathis' vehicle, the motorist of the Avalanche and perhaps the operator of third vehicle (in injured) may have a personal injury claim against Mathis. From the article, it appears as if all three law enforcement agencies properly handled the chase and investigation and it does not appear is there is any bodily injury claim against the City of Austell, Douglas County and the Georgia State Patrol.
Unfortunately, I doubt that Mathis will have sufficient insurance coverage to cover the damages, medical bills and pain and suffering of all these injured victims. Under Georgia law, Mr. Mathis (or the owner of the Aveo) must have at least $25,000 insurance coverage per person and $50,000 per accident. Thus, there may be at least a $50,000 pot from all injured persons to collect. Additionally, the injured persons may be able to collect from any applicable uninsured/underinsured motorist coverage. Unfortunately, we do not have the facts to analyze that issue of insurance coverage.
Not only will Mr. Mathis has a civil claim against him for causing these injuries, but he will also have a criminal case against him through charges levied by the Austell police. I would assume that Mr. Mathis will be charged by the proper authorities for speeding (O.C.G.A. 40-6-181), reckless driving (O.C.G.A. 40-6-390) and fleeing police (O.C.G.A. 40-6-395) among others. Because Mathis acted recklessly and attempted to flee the police, Mathis may be liable to the injured persons for punitive damages, damages imposed to punish as opposed to compensate for damages for injuries and pain and suffering. Further, due to his reckless conduct behind the wheel with children in the car, I would assume that the responsible prosecutor will not be willing to plea bargain and will hold Mathis accountable for his actions.
If you or a loved one has been the innocent victim of a high speed car chase by a city, county or state employee or a motorcyclist who has sustained bodily injuries and damages from a vehicular or motorcycle crash, then you may have a right to be compensated for your pain and suffering and damages. It is of utmost importance to contact an experienced personal injury attorney who is familiar with the Georgia Tort Claims Act as well as other state laws regarding the negligent conduct of the police officer, to document and preserve evidence and present your claim in a competent and timely fashion.
The Law Offices of Kevin C. Ford is currently accepting car and motorcycle wreck and collision cases caused by high-speed car chases throughout Georgia. If you or a loved one has been injured as the result of the negligence of a negligent driver, then please contact us today for a free consultation and evaluation of your case. We have over 20 years experience and practice throughout the State of Georgia and can come to you. Please call 404-869-6969 or use our toll free number (855) LAW-FORD to secure your rights today!