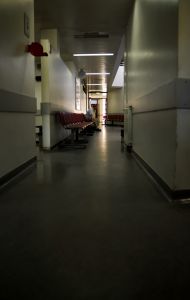 Recently, a Walker County jury in Georgia awarded over $9 million dollars to the estate of a 51 year old woman who died while under the care of a home health care center. The woman was a resident at Country Crossing Assisted Living in La Fayette, Georgia who developed multiple bedsores which became infected. The jury found that the nursing home care center neglected to diagnose and treat pressure ulcers which led to her death.
The nurses at the home care center should have treated, cleaned and bandaged the woman's wounds once a week or on a biweekly basis. Apparently, they didn't. The victim's condition worsened and at one point she stopped breathing. The victim was rushed to the hospital and died the next day as she had developed pneumonia and sepsis as a result of the bacteria.
The nursing care center argued unsuccessfully to the jury that it provided adequate care and that the woman had a short life expectancy due to her preexisting cerebral palsy. But, the Walker County jury didn't buy it and awarded $4 million for pain and suffering; $5.5 million for wrongful death; and $2,683 for funeral expenses. The jury divided liability between the individual owner of the center (55%) and the center (45%). This small city jury (under 6700 residents as of the 2000 census) in the Northwest corner of the State of Georgia awarded large scale justice! This verdict is symbolic inasmuch as the smaller counties in Georgia are receptive to the large level of harm that is been caused by corporate entities.
Nursing home neglect and negligence is on the rise throughout the country due to the increasing elderly population and the decrease in births. Bedsores and pressure ulcers continue to dominate the majority of nursing home negligence cases. Potential signs of abuse at assisted living facilities include physical abuse, mental abuse and verbal abuse among others. It is of utmost importance to remember that patients and their families have rights.

It is important that you contact an experienced Georgia attorney if you or a loved one have suffered nursing home neglect. The Law Offices of Kevin C. Ford located in Atlanta, Georgia accepts nursing home neglect cases throughout the state.
Walker County Jury Awards Family 9.5 million dollars, Rome News-Tribune March 6, 2011