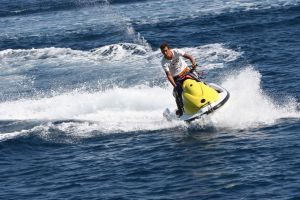 It seems that every major holiday we hear or read of an injury caused by the improper use of a personal watercraft (PWC) on the lakes of Georgia. Typically, these events occur on high traffic inland lakes such as Lake Lanier and Alatoona. Yesterday, July 21, 2012, the stepson of Usher, the R&B singer, succumbed to his injuries as the result of a traumatic incident involving a watercraft on Lake Lanier.
The weather following the holiday period of July 4th was a hot one. It was expected that a substantial number of folks would flock to and use Lake Lanier. As expected, Lake Lanier had heavy traffic of powerboats, sailboats, jet skis and other personal watercraft.
It was during this period that Kile Glover, an 11-year-old, had come to Lake Lanier with a group of people to take part boating on the lake. Kile had waited his turn to be pulled on the inter tube behind the powerboat. Kile got into the water and secured himself to the inter tube. At some point during the period that he was being pulled on the inter tube by the powerboat, a man who was part of the same group and who has been identified as Frank Hubbard of Atlanta, negligently operated a jet ski in violation of state law and struck Kile and another person on the lake causing injuries to both including a traumatic brain injury to Kile.

Kile was retrieved in an unresponsive state after the collision with the PWC. He was subsequently transferred to Children's Healthcare of Atlanta Egleston location, a widely known and prestigious health care facility for children, for emergent care.
Jet skis are designed to be fast and swift on the water with some speeds exceeding 85 mph. Such skis are common on Lake Lanier. As such, the governing law regarding the operation of such watercraft in Georgia prohibits operation of such watercraft within 100 feet of a drifting, non-moving or drifting boat, dock, bridge, pier or any person wading, standing or swimming in the water without immediately lowering your speed to an idle position. The law is codified in the Georgia Code and can be found at O.C.G.A. 52-7-18(f). At the time of the incident, the man who was operating the PWC was within this 100-foot zone of protection surrounding Kile Glover and violated the law. It has been reported that alcohol was not involved in this incident.
At the time of this article, it is not known if Frank Hubbard has been indicted or further prosecuted by the responsible authorities for this incident. Although Mr. Hubbard was part of the group boating with Kile, it is my opinion that the prosecutor of the responsible jurisdiction (Lake Lanier covers 4 Georgia counties) should prosecute Mr. Hubbard to the fullest extent of the law. For too long, we have heard and read time after time of injuries and death occurring on Lake Lanier from negligent, drunk or otherwise inattentive persons. If you want this behavior to stop or lessen, then you must take action to prosecute and publicize this prosecution so that Georgians will understand the gravity and responsibility of responsible boating and operation of PWC throughout the state.
It is pretty well known that this law is not uniformly or widely enforced on Laker Lanier – the cause of which is outside the scope of this article but which can be safely assumed is due to lack of personnel and the high traffic upon the lake. For a complete of Georgia boating safety requirements, follow this hyperlink.
This writer provides his heartfelt condolences to the family of Kile who by all accounts was a happy and wonderful child and also wishes to point out to readers the dangers of the busy inland lakes of Georgia.
If you or a loved one has been injured due to the negligence of the operator of a boat or other personal watercraft, then please contact an experienced personal injury attorney who can help navigate you through the legal maze to help you recover for your injuries.
The Law Offices of Kevin C. Ford is currently accepting boating, jet ski and car collision cases throughout Georgia. If you or a loved one has been injured as the result of the negligence of a negligent driver, then please contact us today for a free consultation and evaluation of your case.