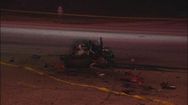 Hit-and-Run collisions are common in Greater Atlanta. Too often, the reason behind a hit-and-run collision is due to the fact that the motorist is under the influence of alcohol or drugs and does not want to stick around for the police and get arrested. In my law practice, I have handled many hit-and-run crashes where the hit-and-run motorists had outstanding criminal warrants or were illegal aliens at the time of the accident.
Another hit-and-run fatality occurred this past Sunday night on Moreland Avenue and South River Industrial Drive in DeKalb County. Tony Smith was operating a Chevrolet Camaro northbound and chose to make a left turn in front of a southbound motorcyclist driven by 30-year-old Jose Santiago-Maldonado. Consequently, Mr. Smith struck Mr. Santiago-Maldonado at a high rate of speed.
According to the article, the eyewitness L.C. Wheat stated that the strength of the impact sent the motorcyclist and motorcycle in the air. Mr. Wheat took note that Mr. Smith, the driver of the Camaro, failed to stop at the scene of the crash and fled the scene of the collision. Mr. Wheat followed Mr. Smith for over several miles and led police to the vicinity where they were able to take Mr. Smith into custody and arrest. Mr. Smith denied being involved in the collision; however, Mr. Smith was unable to refute Mr. Wheat's first hand witness testimony that he was the operator of the Camaro.
As a result of the injuries sustained in the collision, Mr. Santiago-Maldonaldo died. Our condolences are extended to the family of Mr. Santiago-Maldonaldo. It was unclear if he was pronounced dead at the scene or transferred to the hospital for emergent care. It was not apparent if Mr. Santiago-Maldonado was wearing a helmet. Frankly, after seeing the pictures of the extensive property damage to the motorcycle, I am not so sure that a helmet would have made any difference. Operating a vehicle in Atlanta is dangerous but operating a motorcycle in Atlanta is even more so.

Due to his criminal actions, the driver of the Camaro, Tony Smith, was charged with driving under the influence of alcohol, hit and run, improper left turn and driving under a suspended or revoked drivers license. Consequently, Mr. Smith was arrested, booked and transferred into the jail population at DeKalb County Jail. I am sure that Mr. Smith will face further criminal charges from the DeKalb County prosecutor for the senseless and preventable death of Mr. Santiago-Maldonado.
Moreover, the family of the decedent, Mr. Santiago-Maldonaldo, will be able to sue Tony Smith in court for wrongful death and related damages. However, Mr. Smith may not have had auto insurance (as he had either a suspended or revoked license) or not enough coverage on his insurance. It is wise to contact a seasoned lawyer who is familiar with litigating auto accident and hit and run wrecks in Georgia.
For all the reasons stated in the first paragraph of this blog, I always urge my clients to purchase uninsured/underinsured motorist (UM) coverage from their insurer. If my clients already have this insurance coverage, I advise them to purchase higher limits of UM coverage and to make sure that such coverage is considered the new excess or added-on coverage.
In addition to wrongful death, I believe that the family of Mr. Santiago-Maldonado may pursue Tony Smith for punitive damages. Punitive damages are allowed by Georgia law not to compensate the victim but rather to punish the wrongdoer. Auto insurers do not always cover such damages so you want to be sure that your policy does indeed cover punitive damages.
Punitive damages are applicable in this situation because Mr. Smith was traveling under the influence of alcohol (under Georgia law there is no limit as to the dollar amount as to what the jury may award when the defendant is under the influence of alcohol or drugs) and hit and ran from the scene of a collision. It is important to utilize the services of an experienced personal injury attorney to maximize your opportunity to receive a punitive damage award at trial.
The Law Offices of Kevin C. Ford have over twenty years of experience in handling the claims of Georgia hit and run accident victims, and if you or your loved ones have been the victims of a hit and run accident in Georgia, we can help you, too. Contact us today, to speak to an attorney right away. As always, the consultation is free, and there is no obligation. Call us, or use the online form. We are available to answer all your questions.